Kalamazoo Nordic Skiers
2015/2016
End of Season Notes
On Friday, March 11, 2016, Richard Neumann, Greg Worsnop, Dan Ferrara, Jeff Newman and Zolton Cohen packed up the snowmobile and grooming equipment, putting to an end to the 2015-2016 snow grooming effort at Milham Park Golf Course.
Overall, it was a disappointing season in terms of skiable days. Compared to the last two winters there was a decided dearth of snow, and periodic warming spells melted down to the bare ground what did fall. Still, volunteer groomers Richard and Greg worked diligently to get what they could out of the sparse raw material. Under those tough conditions they still managed to produce several cumulative weeks of skiable, groomed skate ski trail. Unfortunately, the snow was never deep enough to consider setting classic track.
The grooming equipment is at present stored outside at the golf course, under a tarp on a trailer. We are hopeful that we can move it to an indoor storage facility in order to reduce the weathering that takes place in the outdoor environment.
Expenses this season were low; just $25 for gasoline, $10 to the County to renew our DBA, and $29.70 to Newman IT for web hosting. We still need to purchase a new tarp to replace the tattered one that we've used for several seasons. We received $82.80 in donations. At present there is $2141.79 in the KNS treasury, awaiting the first snows of late fall 2016.
Thank you to those who contributed financially this year, and thank you especially to Richard and Greg, the groomers who put in many unacknowledged hours to make this operation a success.
2014/2015
Lost & Found
A pair of ski boots were found in the parking lot at Milham Golf Course on 2/5/2015. If they are yours, and you'd like to get them back, please contact to identify them and get them back on your feet!
Happy Skiing!
2013/2014
End of Season Notes
The Kalamazoo Nordic Skiers wrapped up a record breaking season the morning of April 1, 2014 by loading up the snowmobile and groomers to store them for the summer. Dave DeBack, Zolton Cohen, Richard Neumann and Paul Wells were on hand for the packing up and loading of the equipment onto the trailer.
In the past, we have used various storage facilities off-site. But this year the Kalamazoo Municipal Golf Association is allowing us to utilize a lean-to alongside one of their pole buildings right on the course. This generous offer by KMGA has made it easier and faster to stash the equipment, and it will also make it easier to access and unpack it when the snow flies again in the late fall. Thank you, KMGA!
More than 100 inches of snow fell in the Kalamazoo area in the winter of 2013/2014, and right from the very first storm in November our two volunteer groomers, Richard Neumann and Dave DeBack, were able to groom excellent trails around the perimeter of the golf course as well as through the middle. They groomed a total of 38 times, put over 600 miles on the snowmobile, and burned through a lot of gas and oil in the process. Richard said the date of his last ski was March 23rd - unprecedentedly late in the season.
For the first time in years we had sufficient snow to deploy a great auxiliary feature of our snow groomer, the Sno-Razor™. The Razor allowed the groomers to slice off the top layer of hardened and icy snow and then incorporate that reconstituted material back onto the trail. It made for a much flatter and less rutted surface, and superior skiing conditions.
Each grooming session takes between 3-4 hours. So if you enjoyed the ski trails at Milham this year, please let our dedicated groomers know how much you appreciate their work; they put in a lot of time so everyone can enjoy the venue.
Things were good in terms of donations this year as well; 35 people contributed to the cause. Our expenses for gas, oil and repairs came to $352.00, and we are left with adequate funds in the club checking account to get off the ground next year.
All the grooming miles take a toll on our equipment. In response we are looking to upgrade and repair some items in the off season. For instance, Dave DeBack found some wider front skis (used) for the snowmobile that will prevent it from getting stuck so often in softer snow. He is also looking to straighten out the Sno Razor™ and the hitch, both of which became distorted this year.
The Kalamazoo Nordic Skiers held a productive meeting last month - something we would like to continue on a regular basis. A number of issues were addressed, including finding a way to communicate trail conditions in a timely manner. We consulted with our friend, Kathleen Kroll, who helped us set up a Facebook page: www.facebook.com/kalamazoonordicskiers. Next year, whenever the trail is groomed, one of the groomers will send a notice around via Facebook. Skiers can also use it as a way to meet up with other people to ski together.
We also discussed the possibility of offering some cross country ski instruction at some point. If and when that occurs, we'll post notices on our website, www.kalamazoonordicskiers.com and also on the Facebook page.
Finally, did you know the Milham Park Golf course has a bar? We didn't either. But we are investigating to see whether it would be open during the winter for après-ski refreshment.
Thank you to all who helped make this season a resounding success: First and foremost our groomers, Richard Neumann and Dave DeBack. The Kalamazoo Municipal Golf Association and its director, Dean Marks, Kalamazoo Parks and Recreation Director Sean Fletcher, and the helpful maintenance staff at Milham Golf Course also deserve kudos. And to all of those who thought our efforts worthwhile enough to support it with your donations, thank you. It was a stellar ski year. Let's hope for more of the same in 2014/2015!
Kalamazoo Nordic Skiers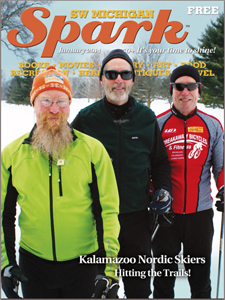 Nordic Skiing in the City
Article highlighting KNS grooming efforts
SW Michigan Spark, January, 2014
Last winter, we had to wait until well into January before there was enough snow to start grooming. This year, we're six weeks ahead of the curve! Grooming at Milham Park Golf Club keeps local skiers, skate and classical, from having to travel several hours to find a groomed trail to ski. The 2.1 mile groomed trail around the perimeter of the golf course is open to anyone, anytime, and at no charge. People of all ages come out to the golf course to enjoy the scenery, watch hawks that hang out at the golf course, possibly see deer hiding around the course, and of course, enjoy the skiing.
The Kalamazoo Parks and Recreation Department and the Kalamazoo Municipal Golf Association help make the use of the course possible. Great cooperation from the people that run the golf course make it possible, and allowing the Kalamazoo Nordic Skiers to store their grooming equipment on site during the winter makes it very easy to keep the trails maintained. The city provides the space and land, but the Kalamazoo Nordic Skiers group puts in all the effort and equipment. Donations through this website (Paypal link to the left) help pay for gas and equipment upkeep, so it keeps it no-cost to the city, and free for the skiiers. Having this skiing venue located within our community is really a rare commodity - enjoy it while it lasts!
Summarized from the January, 2014, issue of
SW Michigan Sparks Magazine 50+ It's your time to shine! (swmspark.com)
Early-season Kalamazoo Nordic Skiers Report
The 2013/2014 Nordic ski season in Kalamazoo is off to a promising start - approximately five weeks earlier than it began last yet. Cold weather froze the ground prior to the first snow falling, and that helps prevent the snow from melting from below.
Dave DeBack, Paul Wells, Dan Ferrara, Richard Neumann and Zolton Cohen moved the grooming equipment out of storage and over to the Milham Park Golf Course on December 12th, and Richard started grooming right away. Within a week there was enough snow to not only pack a skate ski trail, but also to set a shallow classic track.
A couple of days of warm weather and rain did some damage to the trail, but skiers wisely kept off the groomed track, which kept it largely rut-free. Then it froze when the temperature dipped, and now new snow has fallen on top and has been groomed into a great skate ski course. More snow will have to fall before classic track can be set. But classic skiers can, of course, use either the edges of the skate ski trail or can break trail anywhere on the course. The golf course management requests that skiers stay off the greens and tee boxes.
Please come and use this groomed cross country ski venue! It has been created for your enjoyment; there is no charge, and you can ski at any time of the day or night.
If you feel like contributing to the ongoing trail-grooming expenses of the Kalamazoo Nordic Skiers, an all-volunteer organization, there is a means to do so elsewhere on this website. Special thanks go to our trail groomers, Richard Neumann, Dave DeBack and Paul Wells for all their efforts in making this venue a reality.
2012/2013
Season-ending Kalamazoo Nordic Skiers Report
The 2012/2013 Kalamazoo Nordic Skiers' season officially came to an end on March 21, 2013, as Paul Wells, Richard Neumann, Dave DeBack, Dan Ferrara and Zolton Cohen moved the snow grooming equipment into storage for the summer.
It was a tough year for cross country skiers in this area, as there wasn't sufficient snow to start grooming the course at Milham Park Golf Course until after the middle of January. After that, chief groomer Richard Neumann said he only had the opportunity to groom ten times, putting 150 miles on the snowmobile.
Despite the dismal snow accumulation, donations this season totaled $246.82. Thank you to all who donated! Your contributions help keep gas and oil in the snowmobile and also pay for any needed repairs.
Expenses this season totaled $193.07. $108.60 went to gas and oil, the rest was for storage of the equipment ($50) and web hosting. Currently, there is $492.28 in the KNS savings account and $335.00 in checking, for a total of $827.28. That gives us enough operating capital to get a good start on next year's endeavor - whenever the snow depth reaches six inches..
Thank you to all who helped out this year with donations and moving the equipment to and fro, as well as to Milham Park Golf Course, the venue for the operation. Thanks as well go to Jeff Newman at Newman IT, for hosting the KNS website and manning the organization's information technology needs.
Finally, special recognition goes to Richard Neumann, who did all the grooming this year, spending many, many hours on the noisy, smelly snowmobile to bring top-quality skate ski and inline cross country snow grooming to the Kalamazoo area. If you get a chance to speak to Richard between now and the start of the next ski season, let him know how much you appreciate his efforts!
Respectfully submitted, Zolton Cohen, Kalamazoo Nordic Skiers